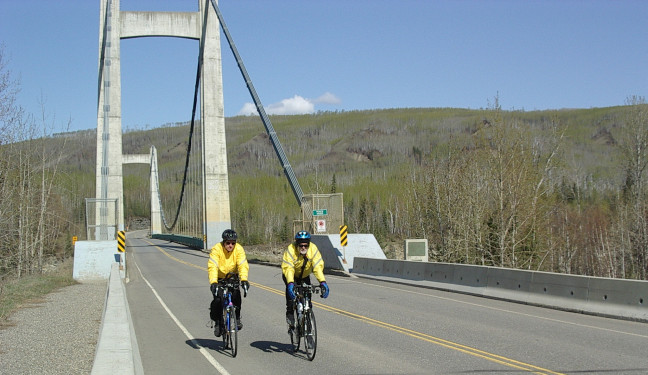 Eric Snucins & Wim Kok
Photo: Bill Lindsay
2010 Peace 300 Km: A Wild Ride
by E.W. (Wim) Kok, Brevet Organizer
It had been cold, snowy in the weeks leading up to Peace 300. At 5 am, while sunny and calm, Erik and I left Fort St John with temperatures of 3 below zero. That was only the beginning. As we progressed we hit low lying pockets where the temperature must have been 6 below, because there was ice on pond and puddle. Spring was indeed very, very tentative with very few leaves on trees. Some aspen groves in protected areas did show the verdant green Alexander Mackenzie wrote about in his 1793 journal as he paddled up the Peace on his epic journey to the Pacific. I didn't keep a diary as we peddled on our epic wild ride along the Peace: le Petit Tour de Peace. But wild it was in the sense that we saw lots of wildlife. Somewhere in a tree an early warbler whistled the incomplete first line of 'O Canada'. Woodpeckers continuously hammered trees in search of choice breakfast bits. Down in the ponds geese were honking complaints about the chilly waters. The odd duck quacked in agreement.
Deer were out in droves. On a few occasions we had to pull on the brakes to let them cross and to avoid a collision. In Hudson Hope the deer were so close to the road that we could touch them. Meanwhile a couple of moose were out as well. In one area an elk was sauntering among the deer, while in the distance a colossal black bear was digging for grub. We were cycling in a wildlife park. But was it every cold. At one point where we stopped, Erik noted ice chunks in his water bottle. The sweat in my headband had turned into ice crystals. Wow. At the Hudson Hope Control Bill Lindsay - member of our local cycling club and tour rider - welcomed us with some drinks and food. Much appreciated, Bill! He then scooted ahead to digitize our Peace Bridge crossing.
We continued up the hill along Cameron Lake, down the hill along Moberly Lake. When we crossed the Moberly River and glanced across the Lake, the snowy peaks of the Rockies stood silently and starkly against the skyline. Beautiful. The Twin Peaks were particularly outstanding. Then up the long hill over the ridge and down into Chetwynd. Munch time, then onward and eastward. The generally prevailing SW wind did not materialize; instead it proved fickle, cold and contrarion. Just what we did not need on this almost 90 km eastward stretch. No ushering along this time. The stop at the Roadhouse Café control definitely left the wrong impression by serving cold turkey soup, because someone had unplugged the pot. Some service!! The final stretch was down and up, down and up, down and up on the roller coaster to the finish line. We did it, and in the process lowered the 2011 PBP preregistration date by two more weeks.
---
Go to: Results
May 10, 2010