Better late than never, here's Harold ride report... from 1970. Another chapter from the Harold Bridge memoir:
An Introduction To The Sunshine Coast And Beyond
by Harold Bridge
I left work at Dominion Bridge, Lougheed Highway at Boundary Road, on a June week day afternoon in 1970. I headed across the Second Narrows Bridge to Horseshoe Bay.
I was riding my 1954 "Ernie Clements" with what seemed to be a low enough bottom gear, (44 inch or 42x26?). Being a few days short of 43 I was in less need of low gears than now and was prepared for anything.
A pleasant cruise across Howe Sound got me to Langdale. By waiting a few minutes to let the motor traffic go, I had an hour or more of quiet riding on Sunshine Coast Highway 101.
By the time I got to Pender Harbour it was time to look for a bed and I stayed in the hotel there. But, in order to catch the Earl's Cove ferry to Saltery Bay the following morning I needed to leave before the hotel was willing to open. By pre-paying I was able to get away with just about enough time to spare. The ride became a 20 plus km time trial without breakfast.
I could see it was going to be "touch and go" and a short distance before reaching the ferry dock at Earl's Cove a car passed me. The driver warned the ferry crew that a cyclist was on his way and they waited for me. Luckily, there were snacks on board otherwise I would have had to wait until I got to Powell River before eating.
My wife had recognised my need to keep active and had suggested that our camper vacation on Vancouver Island (with bikes stowed in the camper) should allow me a solo tour before we met up in Victoria. After a night in Powell River I ferried across Georgia Straight to Vancouver Island's Little River & thus to Comox. The next night was in Nanaimo where a Cockney sounding Brit in the fish shop was bemoaning the lack of culture in Canada. His complaint seemed to be based upon Canadians not eating enough Fish'n'Chips!
I was in my element, free enough to ride as I wished and fit enough not to be bothered by hills. I had plenty of time and instead of riding the highway to Victoria I got on the ferry to Vesuvius Bay on Saltspring Island and thus to Fulford Harbour and then the ferry to Swartz Bay at the north end of the Saanich Peninsula.
Riding the Pat Bay Highway then was a delight in comparison to today. And I arrived in Victoria unsure exactly where I was going to meet up with the camper. I stopped at a suitable location to photograph Victoria's Legislative Buildings and while looking through the viewfinder I saw the camper go by. My loud shout disturbed the peace and brought the camper to rest on Belleville Street. Not without damage though, one small vent window was open and it got crunched on a lamppost.
My cycle tour was over. However, there would be opportunities to do some family cycling on VancIsle during the camper tour. My wife's bike had a child's seat. We pottered "up Island", did a detour to Buttle Lake and on to Gold River. Being an "out and home" journey I was able to do that ont' bike. It was an impressive ride: almost no traffic, perfect road surface, spectacular scenery and glorious weather. Going by the spotless black asphalt, I got the impression my tyre marks were the first on the new surface.
We returned to Nanaimo and instead of using the regular ferry we went via the Canadian Pacific Steamer right into downtown Vancouver, alas, no longer an option.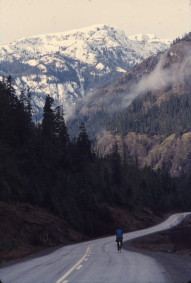 Road to Gold River
Photo here for atmosphere only. Harold and family went back Strathcona and stayed at the Strathcona Lodge, Dec 1976.
---
Ride date: June 1970
April 2, 2010