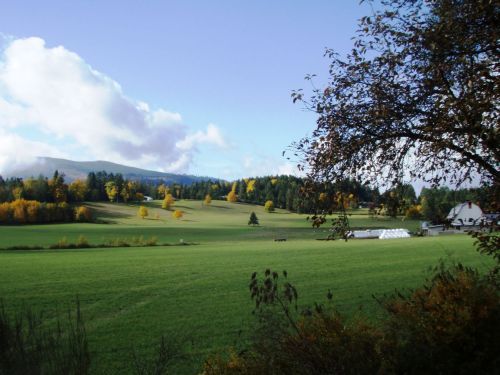 click photos to enlarge
(photos: Ken)
No, it's not a typo. Ken just did a 2000 km permanent. Here's his report to Permanents
Co-coordinator Tracy Barill. Course elevation chart at bottom of page.
Ultimate Permanent (Permanent 3)
by Ken Bonner
You already know about the unfortunate 'dnf' in the cold fog in the dark early morning of Sat. Oct. 18. I was just starting to (hopefully) climb out of the fog into the Highlands when my rear STI shifter bit the dust. Good thing this did not happen out in the wilds around Port Renfew! A good thing about a permanent, is that unlike an ACP brevet, one can re-schedule. So, I was fortunately able to have my STI replaced and I re-started the UIE [Ultimate Island Explorer] 2000 Permanent at 3:00 am Sunday, Oct. 19 … once again in the cold fog! Also, fortunately, I did not inconvenience any support folks, as I did not have any.
Day 1: After the fog and 0 C temp. until about 11:00 a.m., I enjoyed a sunny day, finishing about 8:30 p.m.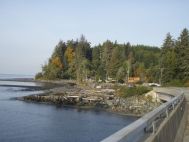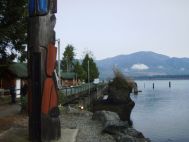 Day 2: Another cold & foggy morning, but in the daylight. After the fog, some drizzle, the temperature warmed up a bit and I enjoyed heavy rain from Duncan to Chemainus; then sunshine and then heavy rain again from Nanaimo to Parksville. Short sleep in Parksville
Day 3: Weather prediction – (low of 5; high of 12) – looks good so I dress appropriately for the prediction. Left Parksville early in the dark. Minus one Centigrade … finally warming up to 5 C in Port Alberni. Rain over Sutton Pass, then bright cloud and sun around Tofino (12 C). Beautiful day out there … then my rear tire was slashed by broken glass I did not see. I lost a bit of time trying to find a place to change the tire off the pavement, then chased pieces of my unwrapped luggage as the wind blew it all over the road. I talked myself into meditative calmness and proceeded on my way, enjoying the trip.
The daylight is ending and the commuting pick-up trucks between Tofino & Port Alberni are becoming fewer. Even saw a friendly black bear, I think s/he wanted to chat and share some Gatorade, but I wanted to enjoy the tail wind while I could. A few kilometres further along (I am now well into the wilderness stretch of the highway) bad karma happens (I knew I should have stopped and shared with that black bear!). Suddenly, my chain is not engaging on the front chain rings. STI seems to be working, but there appears to be a wiggle in the chain. I stop. Yup, it's the chain … one of the links has spread apart. First time in 20 years! What to do? I have some pins and a chain tool, but don't know how to use them. Well, since I am not going anywhere with the chain as it is, I can do no worse than ruin the chain. By the way, I haven't seen a pick-up truck for 15-20 minutes. How long will it take before someone comes to transport me to Port Alberni (or Tofino) after a dnf? Suddenly I feel a lot colder, and very lonely!!
I am rummaging through my tools looking at several styles of chain pins and a corroded chain tool. I do manage to remove the broken link, but break the chain tool in the process … and I have yet to remove the other inside link so I can insert a pin! I am rummaging in my plastic baggies for something to solve the problem – two small rolls of duct tape, but I don't think this will do the trick, when out pops a 'quick link' I did not know I had with me. In the dim fog of my memory, I remember Performance Cycles selling me this link about 10 years ago … but, will it fit the chain I use now? YES!!!! Once again saved by the 'great-fanged randonneur dog-god'. The dog-god made me suffer for saving me, as it rained heavily until a few k's from Port Alberni, when the roads suddenly became dry (I had not been looking forward to the descent from the Port Alberni hump into the lights of the heavy truck traffic coming the other way).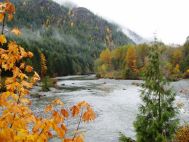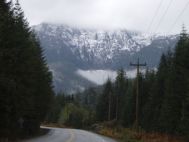 Day 4: Started at day-break in freezing cold weather again. Stopped at the bike store in Courtenay to purchase a new tire and tube and brake pads. I wanted to purchase another quick link, but they did not have any, and like the bike store in Victoria, don't recommend them for Shimano chains. Well, I've just ridden a couple of hundred k's with this quick link on a Shimano chain and it is working fine! The sun came out and it was very warm in Campbell River. As I approached Gold River with night falling, a Kansas-like wind hit me so hard I just about came off the bike, the leaves flying in the wind were like a snow blizzard! Then, it started raining … all the way back to Campbell River.


Day 5: Port McNeill here I come! Ooops! Not so fast … I have a steady headwind into freezing fog (I thought wind blew fog away?). I reach Sayward totally frozen. I check out the Fisherboy Motel, but it is not open. Woss, another 65 k of off-on again fog … really cold and wet roads. In a brief glimpse of blue sky, I see that there is fresh snow on all the surrounding mountains. No wonder I am freezing! With a lot of self-talk, and that of Keith Nichol's (he was there in my head) – I imagined how he learned not to quit, have you noticed those scars on his body? … Cheryl's dog, 'fang', doesn't like quitters! :-) If I quit now, 'fang' will sense it and punish me!!
I finally arrive in Woss and immediately get a key to a room and have a l-o—o-o-n-g HOT shower … and a few winks of sleep. I think I am nearly hypothermic. Amazingly, after I leave the motel, the temperature has risen to 9 C and the sun is out!
Life is good again! Well, it was until I returned to Sayward about 10:45 pm. Let's just say it can be a very, very, VERY long ride from Sayward to Campbell River!!
Day 6: Cold for most of the day with periodic drizzling rain. Keith Nichol, after finishing the inaugural ACP Ultimate Island Explorer 2000k in August, had some 'choice, unprintable words' about the last few kilometres of the route. Honest, Keith, the 'great-fanged randonneur dog-god' made me do it :-).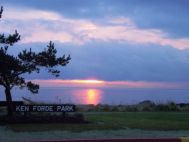 -----
Lessons Learned:
* Don't do this ride in late October!!!! (I don't think November to April would be advisable either :-)
* Buy a new bike before the ride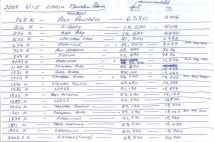 ---
Ride dates: October 19-24, 2008
Ken's finishing time: 140:31
Go to: Permanents results
October 27, 2008