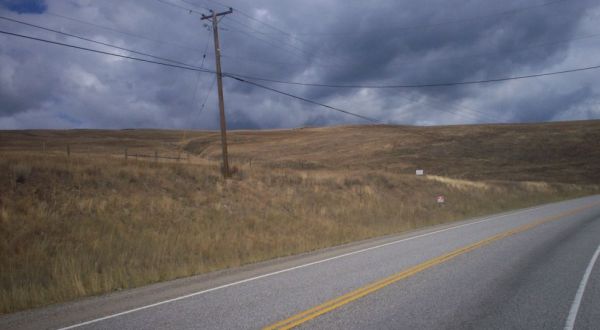 Interior 1000 (Kamloops Kootenay)
August 30 - September 2
by Bob Goodison
Quite a few riders (roughly 10) had expressed interest in riding the Kamloops Kootenay 1000. I'm not sure if it is a coincidence or not, but almost all of them suddenly remembered that there were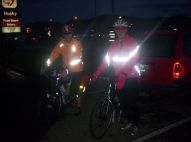 other things they had to do that weekend- usually right after I told them an elevation profile was on Bikely.com. So, at 6:00 am, Doug Fox and I set out to prove it could be done. This was Doug's 1st ultra, and my 1st 1000. With no support vehicles or drop bags, and my habit of packing everything I might need and then some, my bike weighed a ton. I was a little apprehensive about my feet. I had had sore feet at the 2004 RM 1200, due to using mountain bike shoes and pedals, so I broke the "never change anything right before a big ride" rule and, to spread out the pressure put in stiff insoles two days before this years RM 1200. The result- REALLY, REALLY PAINFUL FEET. So here I was with new Specialized shoes and Look pedals, and no rides on them longer than 140 km.
We headed up through Barnhartvale to Hwy 97 in cool, damp weather, with just the occasional sprinkle of rain. We were early enough in the day that the shoulderless portion of 97 between Westwold and Falkland was not a problem, but by the time we got to the similar bit between Oyama and Winfield, traffic was heavy and scary. We were extremely relieved to get off that horrible highway.
After checking in at the 7/11, we started up the Hwy 33 hill out of Kelowna. In places there isn't much shoulder, but there is also not much traffic. I found this climb to be comparable to the climb from Princeton to Manning Park that we did on our Fleche route. Once past the Big White ski resort turnoff, the road got fun, except for some sections near Beaverdell where they were doing tar and gravel patching and hadn't cleaned off the gravel. I saw a good sized black bear, and a deer. We hit our max speeds for the ride on this section- +70 for Doug, 64.4 for me. We arrived at the Rock Creek control- the Gold Pan Cafe, right at suppertime, and had big plates of excellent spaghetti, before heading east toward our first sleep stop in Grand Forks.
My feet were still feeling good, but as we left Rock Creek, my butt was quite sore. I was a little concerned, as I was using my new Brooks saddle with only about 400 break-in km on it. Remember the rule about not changing anything before a big ride? Slow learner, that Bob. Fortunately, the pain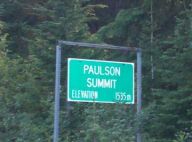 went away after about 20 km and didn't return. The roads in this area are a cycling dream. Good shoulders, almost no traffic, good scenery, and minimal hills- for now. We rode up a small summit as we approached Grand Forks, and lost daylight. On the fast descent into Grand Forks, I almost hit a couple of suicidal rodents, maybe ground squirrels, which crossed right in front of me. At the bottom of the descent, they had the road surface ground up for repaving. It was not nice to ride on, but we came to where the shoulders were not ground up and rode up on them until- WHAM! A ditch had been cut across the shoulder, probably for drainage. Luckily, no flats or damage. A couple of minutes later WHAM! Again. Ok, back onto the grooved pavement. We found our motel, and found out we had been lied to in Rock Creek- there was no 24 hr Timmys in Grand Forks to have breakfast at. We also had our only mechanical of the trip - we broke the coffee maker at the motel.
I wanted to get underway at about 4:00 am. Doug wanted to leave at 6:00 am. So we compromised and left at 6:00, after about six hrs sleep, making do with what was still in our bags for breakfast. We continued East on beautiful smooth roads, with cool temperatures, and no traffic. We knew we would start climbing soon after Christina Lake, but both Doug and I remembered the elevation profile as showing a relatively minor summit before Castlegar, and a huge one after. So we began climbing. And climbing. And climbing. Eventually we got to the top of the Paulson summit, and began the cold, cold descent towards Castlegar. A funny thing was happening. We were having heavy head/cross winds, which combined with the rear heavy weight bias of our loaded bikes to create a speed wobble any time we got over 40 kmh. Doug's bike was worse than mine. It was easily controlled with the knee against the top bar, but was unnerving. I did this all the way until we turned North at Salmo, then mysteriously stopped. Weird.
Instead of bypassing Castlegar, we went into town for breakfast, in anticipation of a hard climb, and hit the Timmys for a Bagel B.E.L.T. (bacon, egg, lettuce and tomato).The original recipe had called for bacon, egg, lettuce, cheese and ham, but that was nixed by marketing because of the acronym. Up the climb out of Castlegar we went, admiring the spectacular view of the town and the whole valley. Then suddenly, there was the summit. Apparently the tough climb was BEFORE Castlegar. We were not too disappointed. We had a long descent, then an easy ride into Salmo.
When we got to Salmo, a few drops of rain were starting to fall. By the time we had checked in and stocked up at the convenience store, it was raining pretty hard, so we put on full rain gear and headed north. The rain only lasted about 20 km, and then we just had to contend with long false flats followed by a steep descent into Nelson. Nelson can be a little confusing to navigate through, but we did ok. The ride up along Kootenay Lake is beautiful, but none of it is level. By the time we hit Kaslo, we were more than a little tired and looking for food. We checked in, and then asked a local to recommend a place to eat. He said the Treehouse restaurant was excellent, but when we got there, there was a closed sign, although there were people eating inside. The owner was very sympathetic, and said that although the cook had gone home, he could do dessert or nachos. We had excellent bean and meat nachos, and regretfully passed up the offer of fresh mango crisp, as we still had about 100 km to go to Nakusp and our motel. I had phoned the motel, and the owner was more than a little grumpy when I told him we would be lucky to get there before midnight.
I had ridden the section from Kaslo to New Denver before, but in the other direction, and expected a tough climb up along the river. The road was in perfect condition, the slope was gentle, and we must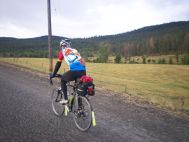 have had a tailwind as we cruised up at 17-20 kmh. We were only overtaken by one car in this section, so were able to use the whole lane. On the fast descent into New Denver, a rabbit came in from the left, stopping and reversing just in time. One more hop would have been disastrous for both bunny and Bob. A couple of deer crossed in front too, but with more room to spare. We had one last delay before Nakusp when Doug's headlight batteries died, and it took both of us to change them and get the thing back together in the dark. We rolled into Nakusp at about 1:00 am, and checked into the motel.
We had decided that since I wanted to get an early start, and Doug wanted more sleep, we would part company at this point. I left in a light drizzle at 4:00 am after two hrs sleep to catch the 6:30 ferry, and while Doug slept in till 6:30, and left at 7:00 to catch the 9:30 ferry. I rode harder than I needed to and got to the ferry at 6:04, so I had plenty of time to get cold. Once on the ferry I sat on the floor up against the wall out of the wind. A guy got out of a beat up Aerostar van and wandered over eating what looked like a handful of lettuce. He offered me Swiss chard, asked if I wanted to warm up in his van, and if I needed water. I declined all three, figuring if I got warm in the van I would be just that much colder when I got out. The sky gradually cleared, becoming sunny by the time I hit the turn onto Hwy 1 at Revelstoke. Before heading towards Sicamous, I phoned Susan so she could meet me at the control at Tim Hortons.
Immediately after leaving Revelstoke, I regretted telling Susan I would be there in 2 ½ hrs. The headwind was going to make that impossible. Also, after quiet roads since Kelowna, the long weekend traffic on Hwy 1 was deafening and relentless. I kept hammering away into the wind, pumping food and gels in the whole way, promising myself soup and a sandwich in Sicamous. That didn't happen, as when I got there, people were lined up right to the door. I got Susan to sign my card, supplemented my food with some from the van, and jettisoned my pannier and all non essentials. It was finally warm enough to lose the arm and knee warmers, so I left them behind too, hoping the weather would hold to Kamloops.
The first few kms after Sicamous aren't fun, especially with this much traffic. Why is it necessary for truckers to blast the horn when they are right beside you, six inches away? After Salmon Arm, I enjoyed a tailwind to Chase, then had alternating head and tailwinds into Kamloops and the finish. On the descent to Chase, I saw a herd of bighorn sheep grazing on the lawn of the church.
In all I think the route was very good, but with room for improvement. The roads in the Kootenays are fun to ride, low traffic, and generally in good condition. There is lots of climbing, but that is less tiring than the constant roar of traffic. The only downside of the smalltown atmosphere and low traffic volumes is a lack of late night services available, so one has to plan carefully. I just need to reduce or eliminate the use of Hwy 1 and 97 and the route will be perfect. Join me next year for the new, improved version.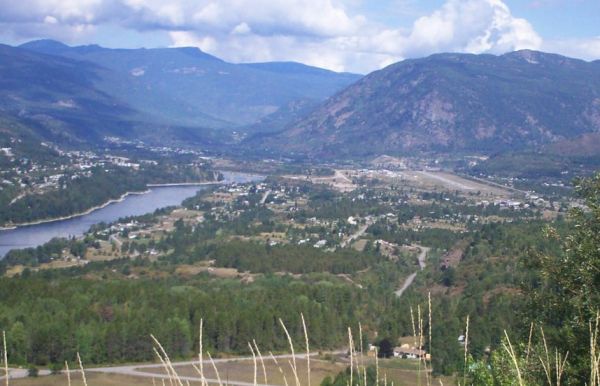 ---
Go to: Ultra Results 2008
Go to: More Ride Photos
September 4, 2008