My Journey to Super Randonneur
by Dug Andrusiek
Randonneur- "to ramble or tour". It is not completely clear to me which of these two words is the correct translation of this French term Touring I understand, and have done much of myself over the nearly 30 years I have been riding a bike. But this journey to becoming a Super Randonneur is nothing like the trips I once took around Lake Ontario or through Wichlow Co. Ireland. And rambling doesn't seem right either, unless of course one is referring to my thought patterns at any moment during a brevet. While both words individually fail to convey my understanding of this sport, both together seem to convey my sense of what I have done over the last couple of months.
Every journey begins with some sort of negotiation, explicit or not. In my case, the negotiation was with my wife, who is herself and accomplished Ironwoman. She had hopes of us spending a little more time together this summer, perhaps sleeping in on our days off, and maybe staying awake beyond 8:00 pm so that we could go to a movie. Bless her heart, she agreed to my dream of riding the Rocky Mountain 1200.
Now, I too have completed an Ironman, so I have some sense of the magnitude of endurance sports. Back in 2005 and 2006, I also completed a couple of 200 and 300 km brevets. They felt quite good, and I had lots of fun. But the conditioning I had accumulated during my triathlon days had been lost as a result of an extended love affair with the couch. Worse still, I was working from home, so I wasn't even commuting. It was clear that I would need to start early, so I resorted to my systematic approach to preparing for these large events: I contacted my coach.
"You want to do what?", he said.
"Ride the Rocky Mountain 1200 in July this year."
"Are you nuts?"
"No".
"Okay."
I had planned to start the training early in the year, perhaps in December, or January. This didn't happen. I did however manage to negotiate another thing with my wife in the original discussion, which was a bike tour around the Big Island of Hawaii in February, which I considered as an earnest beginning to my training. A few rides in January and early February, and off we went. I would start the organized, systematic training when I returned.
Unlike my previous years of riding brevets, each of the rides this year has provided me a unique test and lesson. Manfred and Alard's 200 km Flatlander in early March had an interesting beginning. Before the start, I was concerned about hydration, so I drank an oversized bottle of Gatorade on the way to the start. This is a normal practice for me when I am heading off to a triathlon. However, I hadn't quite made the mental transition from a swim start to a cycling, and with a full bladder (that kept filling over the course of the first 2 hours of the ride) I found myself performing a series of intervals in my effort to keep up to Tracy Barill. Mental note: no need to hydrate like that at the start of a cool brevet.
Once I gave up on keeping up with Tracy, the rest of the ride went relatively well. I hooked up the Susan Allen and Patrick Wright en-route into the White Rock control, but got left behind when I had to hit the washroom (again). I set out on my own, and eventually met up with Sigi Palme and spent of the rest of the ride with him.
Having been a bike mechanic in my younger days, I spend quite a bit of time ensuring my equipment is working (I didn't say clean, just working). But for some reason I hadn't paid as much attention to my bike before this brevet, which resulted in me attempting this ride with sub-optimal tires. Usually I ride toughest tires I can buy, based on the calculus that the time I save having to change flats is worth the slower speed and reduced roadside grief. Well, coming off the North bridgehead of the Alex Fraser, I was holding a bit too much speed, and I had to brake and execute a hard turn to keep from crashing into the rails. And I guess the force of the turn must have rolled my tires a little too far, for shortly after the bridge, I was riding a noticeably softer set of wheels. Rather than replace the tubes, I decided that I should be able to keep pumping up the tires for the short ride into the last control. What should have been about a 45-minute ride to the finish, turned into a nearly 2-hour struggle to keep air in my tires with an inadequate pump, and a discovery that my spare tube was torn. Lesson two for the season: keep my equipment in top shape.
The 300 km promised to be a little more successful, as I had mounted my favourite Schwalbe Marathon Pluses both front and back, and I was carrying three spare tubes and lots of patches. Now I had arranged to do the pre-ride with Dierdre and Bob, which would provide me the opportunity to ride at a more relaxed pace and be a little more social. It also meant an opportunity to meet some new people. At the start Susan Barr introduced herself, and was very pleasant. I knew Keith Patterson from his on-line photos from PBP, but hadn't met his wife. And then there was David Gillanders.
I had heard of this guy before, but never met him, so this was going to be really nice. So off we all went, and soon I was riding beside David.
"You know David, when I ride behind you, it looks like I am riding behind a 25 year old. How long have you been riding?"
"Oh, I didn't start riding until I retired my office practice, about 7 years ago.".
Come again? I don't know if many of you have had the opportunity to ride with David, but was gob-smacked. Not only does he ride with a completely quiet upper body, he rides straight and constant. No unanticipated accelerations. Straight and steady. It was beautiful!
So, I followed with "Well, you must have done something before you started riding?", anticipating a response like "I used to run, but knees couldn't handle it anymore.". But, no, David comes back with "I used to golf." "Huh? You used to golf."
It didn't compute. A 70-year-old man, who didn't start riding until 7 years earlier, who didn't do any aerobic activity prior to starting cycling was riding me into the ground. If only Craig and Brian (his usual riding posse) had been around, they would have been laughing so hard. "Grandpa does that to everyone."
I got ridden into the ground a couple of times on that ride. I struggled to hold onto the wheel of both Julie Ashe-Scott and Susan Barr on the Lougheed, and David continued to impress me with both his wit and strength. Overall the 300 was a very successful ride. No mechanical problems, and a substantial gain in my humility.
Over the next 3 weeks, I entered what is known in every epic story, the descent into hell. It began tame enough with my annual ride around the Ironman bike course in Penticton, followed by a scheduled training ride up Green Mountain Road towards Apex Mountain. My Ironman course ride was strong, but I seemed to have a bit of a cough. The following morning, I wanted to get an early start on the climb up Apex, so I left my hotel room at 6 am and headed out in cool but dry conditions.
Soon I was on Green Mountain Road, a wonderfully bucolic start for my ascent. It was beautiful that morning. I love quiet roads, and miss the cycling of my late teens growing up northwest of Toronto. And here I was, back in the forest, on a well-paved road, with not a single car in sight.
Now the interesting thing about an epic descent is that often times it is anticipated, yet the protagonist carries on despite that knowledge. Like Frodo, I had some idea of what I was to encounter (a long arduous, and eventually steep ugly climb), but that wasn't what really created the challenge. The start of the real challenge was the snow and cold temperatures. Then the 45 minute descent in soaking wet clothes and near freezing temperatures. Then the 2 weeks of chest infection, head cold, temperature of 41 degrees. And then…a 400 km brevet.
Now every time I have ridden a brevet, I have mostly enjoyed it. Great people, beautifully scenery, and my bike. I don't think life could get much better. But here I was, about to embark on the longest ride I have ever done, while still harbouring a chest infection and head cold. Not certain what I was thinking, but I knew I didn't have many other options for completing a qualifying series.
There have been very few times in my life where I spent any time staring at a clock. After the Hell's Gate 400, I have gained a special appreciation for the arduousness of watching a clock. Well, more specifically, my trip meter. My daylight hours on the 400 were spent staring at my odometer: waiting, pleading, hoping that the kms would turn over more quickly. My special little hell was the denial of my wish, the seemingly endless repetition of km after km of disappointment, compounded by heat, and misery. So, I thought, this isn't always fun. And for the first time in my life (actually the second time, but that is another story), I thought "What am I doing?"
I couldn't answer. I knew I could finish the brevet, but because I couldn't answer, I figured it was time to call it a day. Finish this brevet, and then get some of my money back from the RM 1200, and spend the summer at the beach. As with every epic journey, there is a turning point: some are obvious, and others are subtle. For me, the turn was subtle. Something on a road-side billboard stimulated my mind, and all of the sudden, the song "Mirror in the Bathroom" by the English Beat was playing in head. I was no longer looking at my odometer, and I resolved that I would see how things go. I still had a few more weeks before the next brevet, and I was sure to get better before then. If, I thought to myself, I get a rebound of the chest infection then clearly I am not intended to succeed at this challenge.
While I didn't feel completely up to speed, I didn't experience the rebound I had feared, and so this past weekend, I embarked on my first multi-day brevet: the Merritt 600. My second trip up to Hell's Gate for the season was substantially different than the first, and I enjoyed strong tailwinds making the climbs seems effortless. I hooked up with Manfred, Alard and Ron just south of Lytton and we rode together into Merritt. While I can't say I really enjoyed the winds and climbing along highway 8, the ride was from Spences Bridge into Merritt was pleasant enough.
I recall at one point Manfred asking if I was carrying a sleeping bag, because I had an extra bag tied to my Carradice. "No", I answered, "I just brought a lot of stuff." I have spent enough time in the mountains of BC to know that once you are wet and cold, it is a long hard struggle to make it back to warm and comfortable. I didn't want to be tempted to quit, so I brought enough clothes to be able to change completely if needed. In the end, although it may have been a bit of overkill, I am not sorry that I bought as much as I did.
Sunday morning at 3:30 am I set out with David Gillanders, Paul Lahit, and Brian Westerberg. While it was a horrible day to be riding the Coquihalla, that day of riding with these 3 was so much fun. We all took turns pulling at the front, and made good speed. We eventually split up on the climb up the summit, but reconnected in Hope and made good time into Mission. I figure that group riding on a brevet should always be like that: everyone contributing what they can to the effort and no one being left to feel like they are holding the group back. Eventually we broke up again, but by now I was in familiar territory and I didn't mind riding the rest of the way into Vancouver. And so I finished my first 600, and my first series.
I did have a couple of hiccoughs on the 600, but nothing to be overly concerned about, except for the fatigue. A couple of times on Sunday I felt an eminent head bob, and fortunately was able to keep myself stimulated enough to avert disaster. But with that, I figured that 4 days of being tired like that might just be a little too much.
After a beer and club sandwich at the Day and Night, I got a ride home from Tracy Barill. I mentioned that I was pretty certain that I didn't want to expose myself to the fatigue of the RM 1200, but he was quick to point out that I should be able to get a good night sleep each night if I wanted and still finish. Given his insight, I went home and took a look at my times and the course description and found that he was right. So I was back on. And even better, the series is over and will soon be into a tapper, so I will be able to get a bit more rest, so I should feel good for the 1200.
Now, the test of the 600 is fairly clear (can I go that far within the time limit), but the lesson from that brevet didn't occur until Monday when I was out on my recovery ride.
But first a bit of background. I think it is fair to say that I am cynical, and can be quite dark. I take solace in Dostoevsky novels and Tom Waits is the soundtrack of my life. I remember a CBC meteorologist referring to our lovely "Junuary" weather and I must admit, 10 degrees and heavy rain did feel a lot more like November or January than it did in June, but I set out nonetheless. My normal recovery ride is a quick hour and a quarter ride around Stanley Park, which due to the effort of the weekend became an hour and half. While waiting for the light to change at Cap and Marine, for the climb up to my house, I was standing beside a guy commuting home after work. He turned with a grim look on his face and said "What and ugly day", which I would normally have grunted an agreement to. But instead, I first said "It could be colder", and after a little more thought added, "You could be further from home."
In those responses I saw something profoundly different about my attitude. I guess my response was something like what Viktor Frankel discussed in his existential psychotherapy. I had found meaning, good meaning in my misery. Perhaps one must suffer for this to happen, and maybe I hadn't suffered enough to this point in my life. But as far as I can tell, if not for my journey to becoming a Super Randonneur, I would not have seen the potential for something much worse, and enjoy the misery I was in.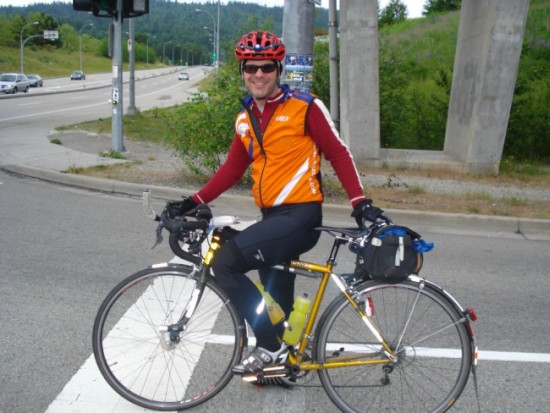 Dug near the finish of the 600... the misery behind him.
June 17, 2008