Interior 300
Salmon Arm 300 km - May 17, 2008
by Bob Goodison
The morning of the Interior 300 started out perfectly. Fifteen riders headed out in clear skies, calm winds and cool temperatures, though we knew we were in for the first hot day of the year. I started out cycling with the Supermen- Ian Fillinger and Ryan Kurz, although I decided they were only waiting for me so that they wouldn't have to navigate for the first few kms as we got away from Salmon Arm and onto the rural roads that made up the first 100 km. I have always considered myself a fairly strong climber, but riding with these guys was a revelation. As soon as the road turned upward, they would start to pull away. I told them not to wait for me, but still kept them in sight until about the 50 km mark at Shuswap Falls, which was spectacular due to the sudden warm weather and heavy snowpack.
The ride out to Mabel Lake and back was great- cool, low traffic, scenic. At Enderby (100km), Sandy Caswell opted to turn right and ride 24 km back to Salmon Arm, rather than suffer through the next 200 km with the rest of us. She was the smart one. I hit Enderby with a 31.1 kmh average, and thought "Let's try for a sub-11 hr time."
The middle 100 km of this ride is not much fun, but a necessary evil to link it together. Through Vernon and on through to Kelowna is busy highway, with some sections having very little shoulder. Fortunately, on this day, all the drivers I encountered were courteous and gave me as much room as possible. At the Glenmore turnoff my average was down to 29.9. "Let's try for a personal best 300- under 11:20."
Shortly after the Glenmore Rd. control (179 km) I started to get major cramps in my quads. This surprised me because we had done 470 km with enormous climbs on the Fleche two weeks before, and I never really fatigued on that ride. I finally figured it out. All my early season rides had been at a moderate pace, about 27-28 kmh. Those extra couple of kmh in the first 100 km pumped way too much lactic acid. St. Bernards should not try to run with Greyhounds. I had the panting and drooling part going for me as well. Westside road was going to hurt. "Let's try for a better time than last year."
Over the floating bridge and onto Westside Rd. is getting easier as the new bridge nears completion. When finished it should be really good. The hills on Westside Rd. had grown considerably in the month or so since I last rode them. With the cramping, heat, and a stomach that didn't want any of the food I had with me, I have never spent so much time in my granny gear doing single digit speeds. I didn't look at my average anymore because it was too depressing. "Let's finish this thing."
On Westside I was passed by a scooter gang- about 8 little scooters buzzed by, hooting and hollering, wearing denim jackets with the sleeves ripped out, various messages applied on the backs with magic marker. A welcome distraction. I saw only one deer on this section, and then a mother bear and cub just after I stopped for icecream at the Newport Beach resort store just before Hwy 97.
The rest of the ride was pretty uneventful. The usual Salmon Valley wind was mercifully absent. All that was left was the last painful grunt up to the finish at the top of the hill. When planning the route, I hadn't wanted to finish with a climb, but the community center was the only place where they would guarantee me parking. More planning needs to go into this. I finished, then lay on the grass at Tim Hortons , taking little sips of water until I didn't feel like being sick anymore. I had used 4 bottles of liquid to do the first 179 km. and 5 to do the last 128. Final average-26.3 . After eating and drinking steadily until bedtime, I was still down 8 pounds the next morning. This was the most physically baked I've been after a brevet since my first season, when every ride was like this. Have I learned anything? Probably not.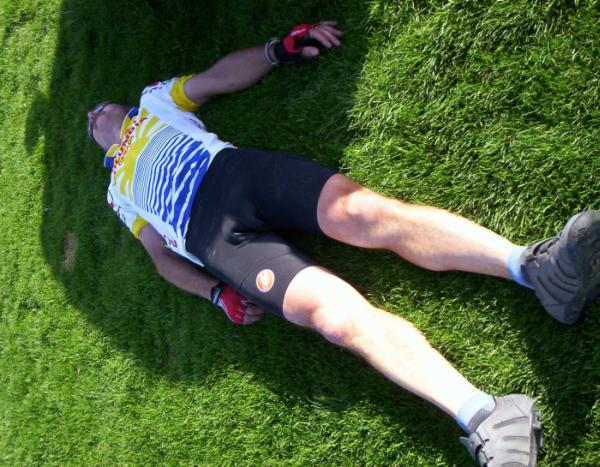 ---
Go to: Results or Event Photos
May 24, 2008