* Dave Cambon was hoping to be the only Hellion Survivor, thereby picking up the rewards for both the Eau de Perspiration and the Eau de Roses. In spite of Scott & Jeff sleeping in a CIBC ATM access room, Dave managed to maintain his supremacy and picked up the Eau de Roses reward. See photos on results page.
* Eric Fergusson, take no prisoners, ride like the wind attitude (a real test for his new bionic leg parts; and his over the original manufacturer's warranty Achilles) … paid off, winning the Eau de Perspiration reward (See photos on results page – organizer's report will also be on this page, eventually.
>> Three of the five 2008 Hellion Survivors are now Eau de Hell Week 'anciens' – having the fortitude to complete more than one Eau de Hell Week:
-> Eric Fergusson (not satisfied with two EdH Week finishes, Eric also rode the Summer Hell Week in 2007)
-> Jeff Mudrakoff
-> Ken Bonner
Full Eau de Hell Week results are at:
http://www.randonneurs.bc.ca/results/08_times/08_vi_eau-de-hell-week.html
Eric Fergusson was heard saying something like 'I will not ride the Eau de Hell Week again until Hell Freezes Over' – I guess he will be back next year, the morning after he finished, Nanaimo experienced a record snow-fall for April 19, not just for the day, but for the whole month (25 cm or almost a foot of snow) – just a few hours earlier and we could have had the worst Eau de Hell brevet ever --- probably with no finishers!!!
Note: We are still waiting for the 1st female rider to complete the full Eau de Hell Week! Ladies?
A very SPECIAL THANK-YOU TO THE EXECUTIVE OF THE BC RANDONNEURS CYCLING CLUB, ALL THE ORGANIZERS, VOLUNTEERS AND 24 HOUR STORES THAT ASSISTED IN MAKING THIS ANOTHER SUCCESSFUL Eau de Hell Week, especially to the following folks:
Jenny Watson & Patrick Wright – Tour de Cowichan Valley 200k organizers
Kathy & Lee Ringham – Tour de Cowichan Valley Control
Ken Bonner – Tour de Cowichan Start and Shawnigan Control
Graeme Sheeley – route sheets and control cards for the 300k, 400k and 600k
Dave Macmurchie – Alive Are the Hills 300 Shawnigan Control
Mike, Brynne & Baby Croy – Alive are the Hills 300 Secret Control
Alex Pope – Ride for Gold 600 Secret Control
And just as a reminder, we have a very hard working group of Executive riding members … give them a pat on the back from time to time, or maybe buy them a coffee!! In particular, think of Cheryl Lynch who ensures the results are validated for the ACP; Eric Fergusson who posts the results on the web in record time; Karen Smith who ensures that the brevet pins are available and Alex Pope who ensures our Club remains financially solvent. On Vancouver Island, Ray Parker, Vancouver Island Brevet Coordinator, works hard promoting randonneuring; and ensuring that we organize quality brevets.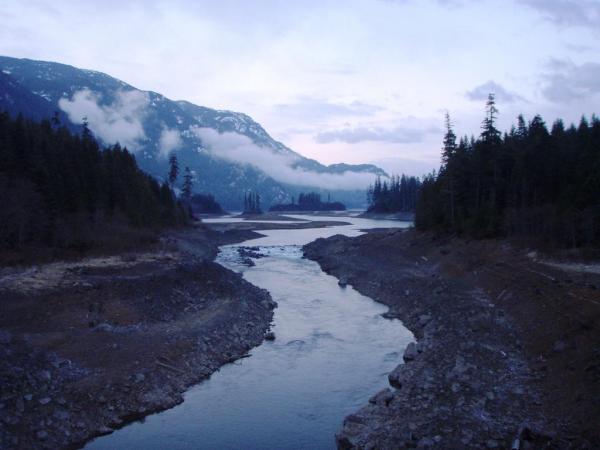 On the Road to Gold River
--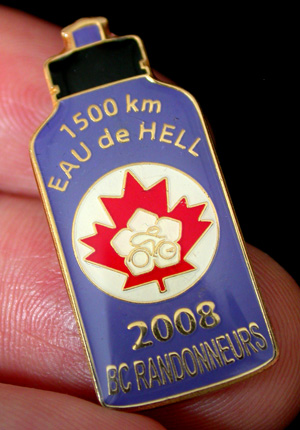 Big Challenge... little prize
Dave Cambon's finishers pin
---
PROMOTION: PLAN TO RIDE MORE VANCOUVER ISLAND RIDES – IN PARTICULAR:
1) HARE and TORTOISE 1000 K – 3 AM START, June 21 – Victoria-Port Hardy-Victoria (formerly known as Vancouver Island End to End) Special Hotel rate at the Port Hardy Inn ($80 + tx. – mention Bonner ride – box lunch upon advance request for a late night snack – small charge)
2) ULTIMATE ISLAND EXPLORER 2000K - 3 AM START AUGUST 12 – in addition to using your motel in Victoria, for a fee to be determined, drop-bags will be transferred to drop-bag rooms in Parksville and Campbell River, each can be accessed 3 times. Parksville (before riding to Tofino; after returning from Tofino and on the way back to Victoria); Campbell River (before riding to Gold River; after riding to Gold River; and returning from Port McNeill. More details later.
3) Hills are Alive 300 (easiest of the Island 300's, only 10,000 feet of climbing!)
4) Highway to Hell 400 (fast, easy highway slopes, 10,000 feet of climbing)
5) Ray's Surprise 600
Vancouver Island Brevet Schedule: http://www.randonneurs.bc.ca/schedule/sch_vi.html
Safe and happy riding! …. Ken
April 20, 2008