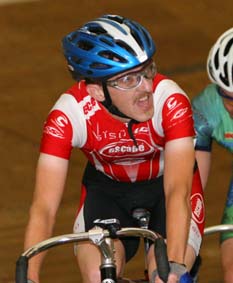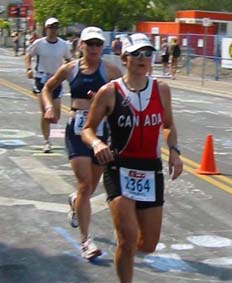 Track 'n Tri
Cheryl & Alex Tackle Non-rando Events
by Eric Fergusson
Last Weekend Cheryl Lynch and Alex Pope applied their cycling skill in non-randonneur events.
In between volunteering at the start of the Blizzard 600 on Saturday morning, and at the finish on Sunday evening, Alex was racing in the masters category at the BC Provincial Track Championships. His final medal tally was 3 Bronze (Sprint, 500m, Scratch Race), 2 Silver (Points Race, Keirin), and 1 Gold (3000m Pursuit). His 2nd place qualifying time in the 3000m Pursuit (4:07.0) was a personal best. He then bettered that time in the Gold medal final with a time of 4:02.7 (averaging 44.6km/h).

Earlier in August Alex, along with Susan Barr and ride organizer Scott Gater, pre-rode the Blizzard 600. Said Alex, "Cheryl Lynch thought it was funny that I was using Randonneur riding as training for Track racing but it seems to have worked reasonably well." Understatement!
Meanwhile over in Penticton on August 27, Cheryl competed in her 4th Ironman Triathlon (her 3rd IM Canada in Penticton.) She finished 18th of 146 in the women's 40-44 category with a time of 11:38): 12th in the swim (3.8 km), 7th in the bike (180 km), and 39th in the marathon. Her fast swim and bike times put her towards the front of the field for a time. Said Cheryl, "I was in the top 25 women (3rd in my AG) going into the run... 65 women had passed me by the finish! It was laughable and I chatted with lots of them as they went past so I still had fun. They need someone like me to chase down."
This is Cheryl's final year in the W40-44 age category, so maybe it's not too early to be looking ahead... her 11:38 time would have placed her 3rd in the W45-49 category. (Good enough to qualify for Kona!) She plans to be back in 2007.