Pacific Range Explorer 1000
by Eric Fergusson (& Jeff Schlingloff)
There were two 1000 km route offerings for the August 2006 long weekend (5th-8th). Though there was interest shown for Stephen Hinde's CCC 1000 (Cariboo Clockwise from Clearbrook), in the end no one attempted it. Jeff Schlingloff did ride the other 1000 - a route he designed based on the Switchback 1000, but with the easy Fraser Valley parts snipped out. I thought the route was just insane enough to rate a mention in the newsletter. Following the map find Jeff's notes on his ride. At the bottom on the page is a link to Jeffs own extensive pages about this route - be sure to visit this site.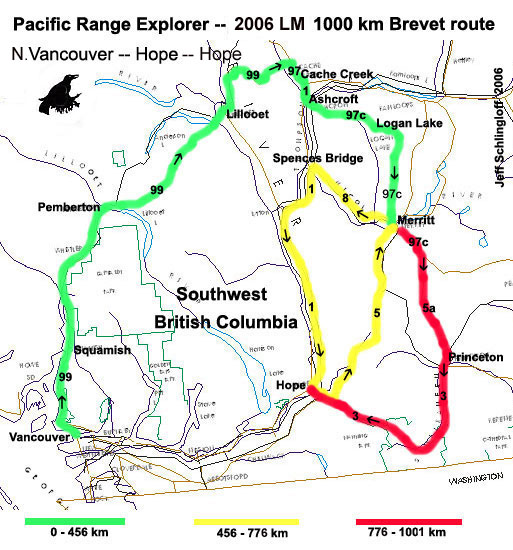 Start time was 04:30, on Saturday, Aug. 5/06.
Start Location: Main & Mountain hwy PetroCan, North Vancouver
Finish location: Water Avenue Chevron, Hope (Aug. 8/06)
Elapsed time: 70hrs 49mins.
Weather: Sunny & seasonably hot afternoon temps, in the Lillooet area, Fraser Canyon & Nicola Valley). Comfortable night and early morning riding temperatures and weather conditions, all sections of the route.
Winds: Strong (Spences Bridge - Lytton) & Interior Plateau, (Merritt - Aspen Grove) sections.
Elevation gain: in excess of 9500m (31,000 ft)
"Overnight": in Cache Creek (Saturday), Hope (Sunday)
---
Pacific Range Explorer Pages
(Route Details, Elevation Profiles, Satellite Images,
Climbs/Summits Charts, Historical Time Line for Key Route Locations...)
August 9, 2006