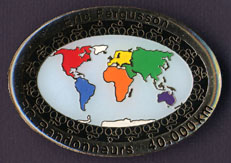 click to enlarge
Eight Riders Receive New 40,000 Pin
by Eric Fergusson
Eight BC Randonneurs received the long anticipated 40,000 pin at last night's spring social at Moose's Down Under. This is a life-time distance award recognizing a rider for reaching the 40,000 km mark in ACP/RM sanctioned randonneur events. Why 40,000 km...? 40,000 km is roughly the circumference of the earth, hence the design which features a earth map. You might think of this as an award for your first lap around the planet. The pin design is by Karen Smith with conceptual input from Michel Richard. Here are the eight recipients of the "first lap" award:
Ken Bonner           105,660 km
Manfred Kuchenmuller  62,606
Deirdre Arscott       52,811
Eric Fergusson        49,495
Keith Fraser          47,821
Réal Préfontaine      43,029
John Bates            42,041
Karen Smith           40,197
A ninth rider, Ron Himschoot (currently listed at 34,309 km), is also over 40,000 km including brevet distance ridden south of the border. Stay tuned while we sort out his total.
A similar award recognizes a rider for reaching the 100,000 km event distance mark - only one so far.
March 19, 2006