---
[Here's the original article from Feb 2006]: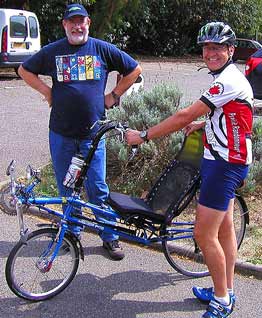 A Prairie Randonneur and his Lightning recumbent at the 2003 PBP.
Photo: Ted Quade.
That's a Lightning P-38 (around $3000), an American historical standard of speedy short-wheelbase recumbents. Several P-38's have done PBP. The P-38 is relatively unique in that it has a type of space-frame. These days there are a lot more recumbents being manufactured and the P-38 would be considered a low-production model for the connoisseur.
There is a carbon fiber version of the P-38 that weighs 19 pounds (called a Lightning R84, for around $6000). At the 1999 PBP Bob Fourney rode a faired version of the R84 (called the F90, which costs about $15,000) to 14th place overall in 47 hours and 17 minutes. Mind you, that excellent time may have had something to do with the cyclist and not just the bike. Bob did win the Race Across America 3 times.
Why Ride a Recumbent?
After the 1999 PBP I was looking at the results sheet and I noticed that a man on a tricycle had finished PBP in 69 hours and 17 minutes. What!!?? Most people would be lucky to go that fast on their fancy 20 pound racing bike, for crying out loud! Was that trike guy superhuman or something? How did he do that?
I asked the trike guy. His name is Ian Humphries. Ian owns a bike shop in Australia called Flying Furniture Cycles. I asked him why on earth he took a trike to PBP when he could have taken any bike.
Trikes are heavier than bikes and trikes have an extra wheel to haul around. Ian explained that the trike was actually very suitable for PBP. The trike has a very comfortable recumbent seat. The trike is also faster than it looks. It's very low to the ground and the seating position is more aerodynamic than an upright bicycle (ie it has a lower coefficient of drag). As an added bonus, trikes don't tip over when you stop – that can be a handy feature when you are zombified and sleep deprived during the latter stages of PBP.
Trikes are also more fun than a barrel of monkeys.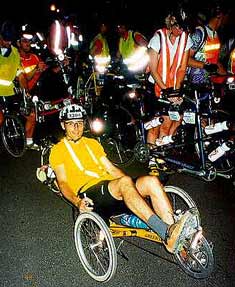 Ian Humphries on his Greenspeed trike at the 1999 PBP.
Photo courtesy of OzHPV. http://www.ozhpv.org.au/index.htm
Greenspeed makes several models of single trikes as well as a very interesting tandem trike.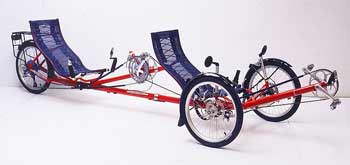 The Greenspeed tandem (about $8000).
http://www.greenspeed.com.au/
For more info on recumbent tandems see: http://talu.com/
Anyway, that recumbent trike of Ian's got me thinking about riding a recumbent bicycle in the PBP.
I know, some of you are thinking recumbents are dark and sinister and possibly subversive. I know a couple of you are even thinking up another tired recumbent joke (or should I say "redundant" joke, ha, ha, ha, har-dee, har, har).
Some of you may even be thinking that riding a recumbent in the PBP might be tantamount to committing cultural heresy in France. Well actually, no. Recumbents were invented in France. In the early 1930's recumbents were being manufactured in France by Frenchman Charles Mochet. By 1933 a Mochet recumbent had broken the hour record at the Parc des Princes Velodrome in Paris. Recumbents ARE French culture.
Plenty of recumbents have done PBP. In fact, the only thing that prevents recumbents from being used in the Tour de France are the arcane rules of the UCI. Otherwise, all professional cyclists would be riding recumbents. Recumbents can go faster. That's why the UCI banned them on April 1, 1934. However, there are no such professional cycling rules preventing you from using a recumbent in the PBP.
The 2003 PBP
The fastest recumbent bike in the 2003 PBP was a… well, uh, it wasn't really a bike as we know it. It was Theo Homan on a Thijs rowing bike (62:29). That is just too wild, even for me.
The second fastest recumbent was Ben Sherratt on a Challenge Jester (65:25). The Jester is a lowracer designed for track racing. It's so low it's really impractical for anything else. The Jester chainline is right next to the front wheel so you have to be careful not to turn too sharply or you'll derail the chain.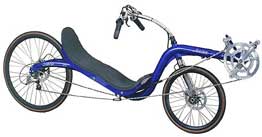 Challenge Jester

http://www.challengebikes.com/index.php
2 minutes after the Jester arrived back in Paris, Hans Wessels pedalled into the finish area after a refreshing randonnée to Brest. Hans deserves special mention because he made it from Paris to Brest in 27 hours and had adequate time for a good night's sleep in Brest. Hans also carried 20 pounds of snacks, two spare tyres and enough batteries for a blackout in a small village. Even more remarkable was the 70 pound vehicle that Hans used for the PBP: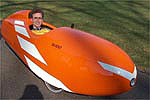 Quest Velomobile

http://www.velomobiel.nl/
The three-wheel Quest velomobile (about $8000) that Hans rode is not even a bike – it's a velomobile! The Quest has a comfortable recumbent seat and room inside for a week's shopping. The Quest slips through the air with ease but I thought it would be way too heavy for PBP. Obviously I was wrong. Hans had this sage advice:
"Stop worrying about bike weights and so on. Most important aspect of a PBP bike is it being comfortable. You will ride on it for a long, long time. Your daily commute bike might be a very good PBP bike. You ride a lot on it, it is dependable and you know the bike by heart."
'Bent Shopping Tips

The 20 pound M5 TiCa lowracer designed by Bram Moens (no price yet, it's a new model). It's bead-blasted titanium and carbon fiber frame is causing multiple orgasms amongst speed-crazy recumbenteers.

http://www.m5-ligfietsen.com/main.php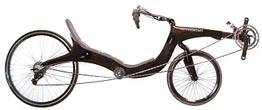 The lovely and curvaceous VK2 semi-lowracer.

http://www.velokraft.com/
The 20 lb VK2 (about $4000) from Velokraft is another recumbent lustbucket that is not really practical for everyday riding but it will beat the pants off any other bicycle, and some cars. The VK2 is more practical than a true lowracer. The VK2 is higher than a lowracer (but it doesn't really have any places to mount accessories). The VK2 has an offset fork so you can turn sharper without knocking the chain off. With this type of bike you really have to watch your downhill speeds, which can easily reach 100kmh. The VK2 should not be your first bike.
Velokraft makes another bike called the No Com, because No Compromises were made in its design. It's not compromised to the UCI, or anybody for that matter. Although it has a spiffy integral front mudgaurd, it's not designed for randonneuring. Don't even think about it.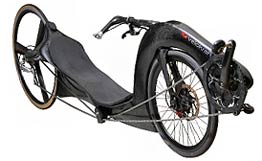 The Velokraft No Com. Don't try this at home kids.
Highracers
Highracers are called highracers because some cyclists wanted a bike with the same slippery frontal configuration as a lowracer but they wanted to be higher up off the ground. Bacchetta highracers are currently all the rage in the US. Bacchettas are being used in races against upright bikes. The Bacchetta company has really helped incite the highracer craze by designing the Bacchetta bikes and making them available.
Bacchetta is the Italian word for riding crop, or whip. Bacchetta is one kinky company. Bacchettas have an interesting handlebar that you can kind-of pull on in a sprint. The bar also puts the Bacchetta rider in the Superman position for super aerodynamics.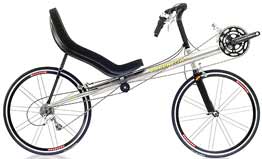 Bacchetta Aero titanium highracer ($4000).

http://www.bacchettabikes.com/index.htm
The Bacchetta guys are experienced recumbent riders who have prior experience with high-volume recumbent manufacturing (at Rans for instance – see below).
Be warned, highracers (and lowracers) have bottom-brackets that are higher than the seat. Although it's a hedonistically comfortable position some people get tingly feet from having their feet so high up. The tingle will go away if you slow down for a few seconds. Some people never get the tingle. Sometimes the tingle will go away after enough months of riding. Some tingly people switch to bikes with a lower bottom-bracket.
Also be warned, a lot of highracers are designed just for racing. Some don't have clearance for mudgaurds or a place to attach a pannier rack. Bacchetta makes a bike with a 20" front wheel (the Giro 20, about $1700) that is more practical for everyday riding.
The good thing about the highracer position is that you will never get a sore butt. Your weight is on your back. You don't even have to wear bike shorts.
There are all kinds of accessories available for highracers and other recumbents. The Terracycle company has high-performance idlers, amongst other bike treats, http://www.terracycle.com/
Rans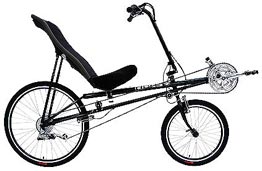 Rans V-Rex

http://www.ransbikes.com/
The Rans V-Rex (King of Speed, around $2000) kind of pioneered this type of short-wheelbase configuration in the United States. The V-Rex has done the PBP and it's a tried and true bike. I like the small front wheel because it brings the bottom bracket down to a reasonable level. The V-Rex is about the same size as a mountain bike so it does not get into parking trouble inside your minuscule Vancouver apartment. You can use the V-Rex for general all-round riding as well as randonneuring.
HP Velotechnik
HP Velotechnik makes a touring bike that you could use for PBP. It's super luxurious and rather weighty (33 pounds) but randonneurs have been known to use it.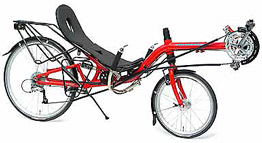 HP Velotechnik Speedmachine

http://www.hpvelotechnik.com/index_e.html
Note that the Speedmachine (around $3000) in the photo has what is called underseat steering in recumbent parlance. Underseat steering gives you all the comfort of a La-Z-Boy chair. The Speedmachine is also available with above seat steering which is faster because your arms are out in front of you where they don't catch as much air. I would recommend above seat steering for randonneuring. It just takes a little while for your arms to acclimate to above seat steering.
Handlebars on a recumbent are just a place to gently rest your fingers. Like an upright bike, you steer a recumbent with your body not your hands. Heavy-handed steering a recumbent will send you skittering all over the road like a drunk (especially on a short-wheelbase recumbent).
The Speedmachine has a large (26") rear wheel instead of two (20") wheels the same size. The larger rear wheel gives you a bit more comfort on rough surfaces (like dirt roads and cobblestones) but the Speedmachine has rear suspension anyway. Rear suspended short-wheelbase bikes are a real joy when touring. You are pretty well lying over the rear wheel and on a recumbent you can't raise yourself off the seat to go over bumps (like railway tracks) so the rear suspension can come in handy.
The Speedmachine can be purchased with racks and mudgaurds and it makes a very nice short-wheelbase touring bike. The seating position is not as high as an Easy Racer (see below) but it is much higher than a lowracer.
Easy Race Me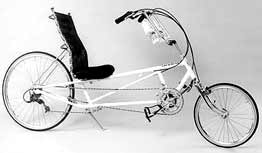 Easy Racer Gold Rush Replica (about $4000)

http://www.easyracers.com/index.htm
Easy Racer bikes are the product of genius. The illustrious Gardner Martin sold his beloved Vincent Black Shadow (motorcycle, for those of you who don't know) so he could move to Freedom, California to design and build Easy Racers, so you know how dedicated he was. Some Easy Racer riders are so Ga-Ga over Easy Racers that they could be considered a cult (of which I count myself as an indoctrinated, pupils-dilated member).
An Easy Racer Gold Rush ridden by Fast Freddy Markham is in the Museum of American History in the Smithsonian Institution in Washington DC. In 1986 a (fully faired) Gold Rush was the first human powered vehicle to go 65mph. In 1989 the Gold Rush set an hour record of 45.366 miles. Recently, former Gold Rush rider Sam Whittingham (of Victoria, BC) set a new record of 80mph on a Varna recumbent bike designed by George Georgiev of Saltspring Island.
The Easy Racer is the bike that I ride the most. It's perfect for commuting and touring. It has great high-speed handling because of the long wheelbase. The long wheelbase also makes it ride oh so lovely and smooth. Some short-wheelbase bikes can be a tad scary going downhill at 80kmh. Short-wheelbase steering can sometimes be a bit sensitive at very high speeds.
The Easy Racer does not need suspension. It's an elegant design that uses a lot of standard bike parts. The Easy Racer has a naturally fast wheel combination (700c rear, 20" front). The front of a long-wheelbase recumbent is lightly loaded so you do not require a big wheel on the front. The low pedals on the Easy Racer make it easier to ride in stop-and-go city traffic than a short-wheelbase bike with its high pedals.
The Easy Racer has a direct (no idlers) drive-side chainline which helps make it fast. The Easy Racer even has a pair of water-bottle mounts right on the handlebar, which is a very nice touch that makes you love it all the more.
The Easy Racer is not a particularly light bike. It's designed for durability and dependability without compromise to light weight. If you want a lighter Easy Racer then get the titanium version ($6000) for the ultimate in luxury. You will not regret it. I love titanium. To read what I have to say about frame materials for bicycles have a look at this: http://talu.com/materials.php
Easy Racer bikes have done PBP but the Easy Racer has a time-trial-oriented rather upright seating position originally designed to break speed barriers (that's how the Easy Racer was developed and that's how it got into the Smithsonian). A more laid-back seating position will take weight off your butt, which you may consider to be nice on a 1200km race… er, uh, I mean randonnée!
Craig Calfee makes an indirectly steered long-wheelbase carbon fiber bike that is similar in configuration to the Easy Racer. It's called the Stiletto and it is quite a thing of $6000 ultralight composite beauty http://www.calfeedesign.com/stiletto.htm
My Easy Racer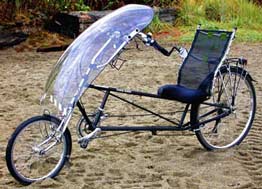 An Easy Racer taking it easy at the beach.
That is my own Easy Racer posing on Kits Beach. I got this bike from Sandra and Gardner Martin at Easy Racers before Gardner died of mantle cell lymphoma last year. The Lexan fairing is great for cold weather and rain. It keeps you warm. You don't need a fairing to do PBP (although the fairing does make you go faster, especially at higher speeds where air resistance is greater).
In the summer I use a 700 x 28c Continental Ultra Gatorskin tyre on the back and sometimes a Primo Comet tyre on the front. The Ultra Gatorskins (the "kilometer king" according to the company) are fast and tough enough for commuting and heavily loaded touring. In the winter I use a grippier 700 x 32c Schwalbe Marathon Plus (with Smartguard!) on the back and a grippy and tough 406 x 1.5 Schwalbe Marathon on the front. The Marathon Plus is as slow as molasses but it is practically impossible to puncture. I hate fixing flats in the winter and I plan to never do it again.
Rotate Me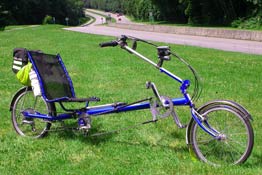 The Rotator Pursuit on the University of British Columbia Endowment Lands

http://rotatorrecumbent.com/
That is my Rotator Pursuit (about $2000) set up for rando riding. Note the Rotator carbon fiber mudgaurds! The Pursuit has a full mesh seat which some people don't like but I think it's great. The seat mesh gives you suspension. This Pursuit with the 20' wheels is a rather short for a long-wheelbase bike, so it stores nicely. Normally a bike with a 20" rear wheel would have to use an extra-large chainring. The Rotator has a unique mid-drive that eliminates the need for the big ring.
The Pursuit has a fairly low seat so it's almost like a long-wheelbase lowracer in a way. The small rear wheel makes the Pursuit accelerate like crazy (because there is less rotational inertia with smaller wheels). It's a sporty bike. It has no place to put a pannier rack but it does have the nicest kickstand mount of any bike made. I never used a kickstand before I tried the Pursuit. It came with the kickstand and I have fallen in love with it.
The Pursuit is also available with a 700c rear wheel and a titanium seat frame, or you can just order the whole thing in titanium.
What Type of Recumbent Should You Buy?
Get a bike that you can use after PBP. If you need a bike that you can tour or commute on then get a bike that can tour or commute when you bring it home from Paris. If you plan on winning PBP… oops, I mean if you plan on coming in first, then you know what you are doing and you already have a dedicated PBP bike and you don't have to read any of my infuriating drivel.
Why Going 'Bent is the Cat's Meow
You won't get sore hands, a sore neck or a sore butt on a recumbent.
Touring on a recumbent is absolutely superior to touring on an upright bike. I have done plenty of touring on upright bikes and there is simply no comparison. I feel as fresh as a daisy after putting in 200 km on my recumbent touring bike.
Recumbents can be faster because of the aerodynamic positioning of the rider – which is like rotating an upriight cyclist backwards about 90 degrees. You don't have to draft to go fast.
You don't have to wear cycling clothes. You just have to wear pants that don't blow-up when you ride. I wear Sportif Paverider Capri shorts I got from the Mountain Equipment Co-op. The have a drawstring on the leg that prevents them from taking in air and blowing-up (recall that your legs point into the wind on a recumbent).
Recumbents are safer in a crash. You don't have as far to fall and you are far less likely to fly over the handlebars and land on your noggin.
Disadvantage of Recumbent Bikes
Pack riding is not very practical with most recumbents because your recumbent bike will go faster downhill than the upright bikes, so you will lose the pack on every downhill. Heavy recumbents will be slower than lighter bikes going uphill (due to the gravitational forces of the earth, not the bike per se).
There's not much of a draft behind most recumbents, so drafting a recumbent is rather pointless. You can draft behind a highracer but there is still not much of a draft compared to an upright bike.
Acclimation to Get 'Bent
You can't just jump on a recumbent and do PBP. It takes months to acclimate to the recumbent position. I would give yourself a couple of years to get used to it. Learning to ride a recumbent is just like learning to ride a bike all over again, but more fun!
One of the reasons test rides are kind of useless is because really you should spend a few months on a bike to make an assessment, not a few minutes. Just make sure the bike is the right size before you buy.
You use different muscles on a recumbent. You have to get used to spinning up hills in lower gears than your upright bike. You cannot stand on a recumbent (but then why would you want to?). You are also going to have to get used to using clip-on pedals if you are not already using them. Not using clip-ons on a recumbent is a bad idea.
You may also have to do enough recumbent riding to get away from beginners recumbent butt. Recumbent butt is muscle soreness that can happen to your gluteus maximus when you are not fully acclimated to the recumbent position. If you get recumbent butt you have to slow down for a couple of minutes so it goes away. Recumbent butt happens more easily on bikes with more upright seats.
'Bent Info
Cambie Cycles is your recumbent dealer in Vancouver http://www.cambiecycles.com/
Bentrider Online is your internet centre for all 'bentdom http://www.bentrideronline.com/
Recumbent Cyclist News is the print journal of recumbent cycling. Available at Cambie Cycles.
See you in Paris!
---
Endnotes:
Mirrors
I have Mirrycle mirrors stuck in the end of the handlebar of every recumbent I own. Unlike upright bikes, recumbents usually have a perfect spot to put a mirror. It really is a miracle and you will wonder how you ever lived without a mirror on your bike. Some recumbents require a mirror because their seat might make it difficult to turn your head around or maybe you just don't feel like turning your head because you a so obscenely comfortable on your luxurious recumbent seat.
Will You Be Seen?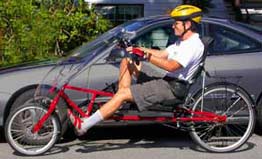 Suave and debonair bike shop magnate Brock Davis demonstrates the height of the Cambie Recumboni bike compared to the mobile emissions device in the background.
Some people who have not ridden a recumbent somehow have the idea that a recumbent is so low that there is just no way a motorist will ever see it. The height of absurdity experienced by recumbent riders is the inevitable motorist who stops beside them on their bike, looks up from their sports car and says: "aren't you afraid of being so low?" The plain fact is that most car seats are lower than most recumbent bicycle seats, but recumbent cyclists don't stop beside cars and say "aren't you afraid of being so low?" Equally stunning logic could be posed to the lines painted on the road, which should therefore be invisible.
On an upright bicycle the cyclist towers above car roofs in what seems like a circus act after riding a recumbent. A recumbent cyclist is in the same position as a motorist and the sight lines and visibility available to a recumbent cyclist are the same as a car. Anyone who has driven a car will be familiar with the recumbent cycling position. The real problem arises when switching from a recumbent to an upright bike which can make the cyclist ask themselves "am I too high?"
If anything, recumbents are one of the most visible vehicles on the road because they are unusual and motorists tend to notice unusual and interesting objects.
Sitting motionless in a plastic and steel container rife with poison gases tends to dull the awareness of the motorist. Common objects passing by the car windows can escape the sensory apparatus of the motorist, who is usually operating in a semi-conscious state of automatism while driving his car. Anything unusual, like a recumbent bicycle, that can temporarily awaken a motorist from their bland stupor, will be noticed.
In fact, recumbent cyclists report highly aware behavior from motorists because motorists become excited and even giggly when they see a recumbent. That temporary neurological stimulation can make the recumbent cyclist shine like a supernova on the dull gray surface of the motorists hobbled cognitive ability.
High-performance recumbent trikes are low to the ground but their commanding dimensions may instill fear, even in the hearts of inattentive Sport Utility Vehicle drivers.
Bike Weight
Although some recumbent bicycles are as light as the lightest upright bicycles, most recumbent bicycles are slightly heavier than comparable uprights because of the extra parts required to create a comfortable and aerodynamically efficient seating position. The extra weight is more than made up for by the aerodynamics of a recumbent bicycle. A heavier recumbent will still be much faster and more efficient than a lighter upright bicycle.
The importance of the aerodynamics of a bicycle cannot be overestimated, especially in headwinds and at high speeds where wind resistance increases exponentially with speed. Most of the resistance to the forward motion of a bicycle consists of wind resistance. The internal resistance of the mechanical parts of the bicycle is nearly negligible when compared to wind resistance. Similarly, small additions of weight do little to alter the rolling resistance of the tires on a bicycle.
While adding weight to a bicycle makes little difference to its performance on flat ground at steady speed, weight will make a difference when a bicycle is accelerating or decelerating and when it is going uphill or downhill.
While resisting the forces of gravity on an uphill slope it is preferable to carry a smaller weight because less energy will be required to raise the weight up the hill. On the other hand, the greater weight will allow the bicycle to go down the other side of the hill at a greater speed than an otherwise identical bicycle and rider because the ratio of weight to frontal area has been increased. Under any circumstance, a recumbent bicycle will reach the bottom of the hill in much less time than an upright bicycle because of its lower wind resistance. The net effect is that even on hilly terrain a heavier recumbent bicycle can reach a destination at the same time (or sooner) than a lighter upright bicycle with the same output of energy from the cyclist.
It is also important to remember that the weight of the rider, bicycle accessories and other accoutrements are going to be more important than the weight of the bicycle itself. For example, adding 4 lbs of weight to a 25 lb bicycle with a 185 lb rider and 10 lbs of panniers and clothing is less than a 2% addition in total weight. That 2% addition is only going to make a slight difference while going uphill or while accelerating and will have a net negligible effect on overall trip speed.
Differences in the weights of bicycles might make a difference to a professional cyclist on an upright bicycle competing in the Tour de France because he is riding an upright bicycle and because success is being measured in seconds. To a person racing as an amateur or touring across France or riding to work, the weight difference is inconsequential.
February 13, 2006