How Far Did They Ride?
You Gotta be Kiddin
by Brian List
(Click photos to enlarge)
As we were driving up I-5 toward the starting point of the Peace Arch 1000 in White Rock BC I commented, "This is really a long drive and it's only half as far as we're gonna ride". Neither Amy Pieper nor Peter McKay responded to my comment. "Oh, I get it" I thought, " It's not appropriate to talk about how far we're gonna ride". The more I think about it I realize it's probably not a good idea to let yourself comprehend the amount of riding you are about to do when you are riding such distances. It's best just to focus on the distance to the next stop.
The next morning we were up at 5:00am. We loaded up our bikes and started peddling toward the start, which was Canadian Customs. There was a line of cars already, at the border crossing. We got in line, the customs official asked for our passports, then asked how long we were planning on staying in Canada. "Ten minutes or so" we said. We explained that we were in a timed event which would go from White Rock down to St. Helens, OR and back. He shook his head and told us to move along.
We decided to get our control cards signed at the customs office and headed in that direction. Karen Smith from Vancouver BC was waiting for us there. She had her bike

all loaded up and was ready to ride with us. We would be an international team of sorts. Very apropos in light of the name of the ride "Peach Arch - St. Helens - Peace Arch 1000km". We got our control cards signed and were off to a roaring stop. We now had to go through US customs. Peter, Amy and I would probably have gotten in the long line of cars, but luckily for us, Karen has lots of experience crossing the border on a bike and directed us to the pedestrian entrance around the back of the building. We explained what we were doing to another incredulous official and soon were on our way.
We began by bumping our way for ten miles down an old concrete slab highway called Peace Portal Drive. I commented, "This is going to feel real good on our buts after 615 miles". I'm glad I didn't know how accurate my prediction would be.
We breezed along through Ferndale and Bellingham and soon were peddling across the Skagit flats. By the time we reached the first control at the fruit stand on Fir Island, the day had become completely glorious. The sun was out, the mountains sparkled in the distance and the temperature was perfect. Of course, it was only 9am. We could even see Mt. Rainier, a little white speck on the horizon. I realized that before our ride for the day was done we would be sleeping in a motel on the other side of that mountain. I quickly put that thought out of my mind.
We soon had made short work of the climb over Hwy 534 and were tooling along Hwy 9 when we saw two cyclists ahead. As we approached, I noticed one of them was wearing a SIR jersey. It was Mark and Wayne. They had come out to ride along with us. Spirits were already high but they really lifted when Mark and Wayne showed up. The miles flew by as we rolled along telling stories of past disasters and exploits. After about 100k they split off to head up the hill to Redmond while we continued toward Issaquah.
By this time it was getting very hot, Karen took a photo of the thermometer she has on her bike when we had stopped for water in Issaquah, 38° Centigrade, that's 100° to us metric system challenged folks! We took it easy on the slight climb out of Issaquah. I was running through my water like it was water. By the time, we had reached Black Diamond, only 30k; I had drunk both bottles. We stopped at a ballpark where I filled my bottles from a hose.
About 6pm, we pulled into the control at Enumclaw where we had dinner at a Quisno's. We agreed that the combination of sweat, dirt and sunscreen had us feeling awfully sticky.
Karen took a humongous pull as we headed toward our destination for the night. The pace slowed, when I took over the lead, as we turned onto Orville Road. "No more bad hills between here and Oregon" I promised. Surprise! The route turned onto 264th St instead of continuing on Orville Rd. The grade on 264th is a real leg breaker. "So much for no more hills" I thought. I deserved the comments I received. More about 264th St. later.
We stopped in McKenna for more food and water. I was starving even though we had only gone 60K since we had dinner. I needed a lump of something that would sit in my stomach so I wouldn't feel constantly hungry. A ham and Cheese burrito was just the ticket. Karen found a starving kitty. She fed him dabs of her energy gel. I felt bad because I had wolfed down my Burrito before I noticed the kitty.
"It really is flat between here and Centralia" I announced as we hit the road. I'm not sure anyone believed me. The final 50k to the control were uneventful.
Amy's husband Robin was waiting for us at the Motel 6 in Centralia (386k, 241mi) with dinner. He even put out the SIR control sign so we would know which room was ours. We made it in at 1am, only one hour behind schedule. Considering the extra stops we made because of the heat, we were doing great.
I didn't sleep well. I had stomach cramps and had to get up to use the bathroom repeatedly through the night. I ate a lighter breakfast than usual but brought along a PBJ sandwich that I nibbled on as we warmed up during the first few miles of the day's ride. I felt better and better as the day went by.
Soon we had reached the major obstacle of the ride, The Lewis and Clark Bridge. This imposing structure, which crosses the Columbia River connecting Longview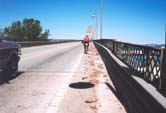 Washington with Rainier Oregon, combines a long steep climb and heavy traffic with a narrow shoulder which is never swept. Karen's picture does not do justice to the amount of crap that is piled up on the narrow shoulder. The size and volume of the wood chips dropped by the constant barrage of log trucks is astounding, and there is nothing you can do except ride straight through it. Mixed in with the chips were nuts, bolts, a 6" long coil spring, and even piece of rebar. You'd better have good tires on your bike if you want to tackle this one! There's nothing for it but to breathe deep, keep a good grip on your bar, and keep peddling til you're across. Oh, and don't look down, it's 210' above the river at the high point.
The final 30k to the turn around point in St Helens Oregon (501k 311mi) was uneventful if hot. We sat in the shade of a convenience store and ate our lunch. We had made it to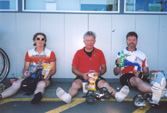 the halfway point in 30 hours (noon Sunday) and we had 45 hours to make it to the finish. It wasn't in the bag but I for one felt a lot better than I had when I started out that morning. If only it would cool down! We had only been at the control for a half-hour or so when we noticed two bikes flying by. It was Eric and Ken, the other two crazies that were doing the ride. They had started three hours behind us and just managed to catch us at the turn around point.
Soon we were returning north, making a second crossing of the Lewis and Clark Bridge. For some reason we convinced ourselves that, there would be less crap in the road on the return leg, wrong! Still it seemed easier the second time. We stopped for water as we were leaving Longview. It was getting seriously hot. Karen and Amy needed to stop in Lexington about 10k up the road from Longview. Peter and I continued slowly. All of a sudden, I was riding by myself. That didn't feel right so I stopped and waited for the others. When they came by it was clear that Peter was having a hard time with the heat. Somewhere along this stretch, Eric and Ken blew by us like we were going backward. Peter lay down for a rest just outside of Winlock, home of the world's largest egg.
Peter left Winlock before the rest of us, stating we would catch him before long. A few minutes later Amy Karen and I hit the road. When we got to the next town, Napavine, I noticed that the route sheet said to turn right when the route actually went left. I assured Amy and Karen that I knew the way. We were riding into a stiff crosswind by this point and the going had gotten tedious. One of the women announced it was time for a break and I reminded them there was a portapotty at the intersection of SR603 and Shorey Rd. For those of you who are not cyclists the issue of, uh… where to go… comes up constantly on these rides. Finding a Sanican is sorta like "hitting the jackpot: if you will.
The final 10k or so into Centralia control was a grind even though it was dead flat. We were tired and hot and the wind bothered us. We pulled into the convenience store at the corner of Main and Yew slightly worried. Peter wasn't there although he had left before us. I tried calling his cel but only got his voice mail. Amy was absolutely sure this was where he said to meet him because they had stopped there on a ride just the weekend before. We decided to get food and wait. It's probably always a good decision to eat and wait when you are in doubt. Peter showed up a little while later. He had followed the route sheet, turning right in Napavine. Luckily, he came across a friendly policeman who set him on the right path.
We felt confident as we left Centralia for the final stretch to the overnight Control in Enumclaw, only 70k to go to a nice hot shower and bed. However, the fun was just about to start. It was dark now as we sped along Hwy 507 between Tenino and Rainier. We started up a slight rise when we heard a crunching sound from Peter's bike. We went around a corner and slowed down, no Peter. I decided to go back and see what was going on, there sat Peter in the ditch fiddling with his bike. "I'm, ok" he called out, probably knowing I'd be worried seeing him in the ditch. "Chainring bolts came out" he calmly stated. "Good thing I have some spares in my bag, I'd never find them in the dark." "He carries spare chainring bolts?" I thought. I never would have thought of bringing spare chainring bolts. Good thing he did though, that could have been a ride ender. It took Peter a good half-hour to replace the bolts and tighten them with the multi tool. I stood over him and shined my light into the traffic coming around the corner. Amazingly, of the 30 or so cars that passed only one slowed and asked if we needed help. I mean here's a guy and an upside down bike in a ditch in the dark. Wouldn't you want to make sure he was ok? What's this world coming to?
Bike repaired, we rolled along. Soon we were past Yelm and in what should have been the home stretch. We just needed to turn onto 264th then Orville Rd. and pretty soon we'd be there. Just one problem, can't find 264th. We went from 268th to 260th. We stopped and had a long discussion. This couldn't be right. We thought that maybe the street designation changed between where we turned on and off 264th the night before. I remembered that we went past a school with a flashy sign just before we turned off 264th. We tentatively headed down 260th. Hey! There's the school with the flashy sign, must be the right way after all. We let go of the brakes and bombed down a steep hill. Whoops, there's a T intersection at the bottom of the hill, don't remember that. The street sign says 70th Ave NE, Don't remember that either. "Maybe we just didn't notice the corner last night" I offered. Peter and I agreed the road to the right looked more promising. "At least it's in the direction of the road we want to be on" someone said. We went right then round a corner and started climbing a steep long hill. The street sign said we were on Webster Rd none of us remembered coming down this big hill. We decided to turn around. We stopped again at the T intersection. Do we go back up 264th?
I don't think anyone actually panicked. However, things were not looking good, we were not only lost, we were down in some kinda hole with no way to go but up. We decided to follow 70th Ave probably because it wasn't as steep as going the other way. We saw a red light off in the distance. "Well that has to be something" someone said. As we got closer, we could see it was a traffic light. The map I'm looking at now shows it was only about 3k from the T intersection to the traffic light but it seemed like eight at the time. The only hint of where we were at the light was a sign declaring we were in the Graham Fire District. "Where's Graham?" asked Karen. I started to say something like I actually knew but thought better of it. Peter flagged down a car. The kids in the car told us if we took a right and followed 224th we would come to the Orting Kapowsin Hwy. I remembered from the Daffodil Ride that would bring us into Orting which in only 3 or 4K off the course. So off we went and after two fairly big climbs and one extra knarley decent we eventually got back on course. Once back on course we checked our computers and noticed that we had only added about 5k to our distance. Unfortunately, we added at least an hour and an undetermined amount of stress to the ride.
The climb up to the Plateau was not to bad and it wasn't long before we were rolling into the control in Enumclaw (733k, 456mi). Peter commented, it was a moral victory that we reached to control before dawn. I think we made it in around 3am. The shower was wonderful and I slept well.
The first thing we did when we awoke was look out the window. Yes! Blessed wonderful clouds; thank goodness. We were on the road around 8am. We had 168 miles to go and 25 hours to do it in. We got wet between Enumclaw and Black Diamond. We enjoyed the rain, thankful that we would not have to ride through another day of heat.
A few hours later we passed the 500-mile mark. That's where I have had to abandon on my two prior attempts at long brevets. It was too early to begin celebrating, but I knew I was going to make it this time. The hills on this part of the course were harder to climb than they were two days before but no one appeared to be suffering.
Finally, we were over the last big hill and onto the Skagit flats. Only 90k to go. We started up a small rise when I noticed that Amy and Peter had stopped. I went back to find out what was happening. Amy couldn't shift her rear derailleur. Peter fiddled with it and we took off again. We soon found that Amy was only able to use her front derailleur, not a problem on the flats but we still had Chuckanut Drive to go.
Chuckanut Drive in the dark was interesting and my legs and butt were feeling the long miles but I kept turning the peddles and soon we were in Bellingham with only 40k to go. By this time the batteries my headlamp had burned out so I couldn't read the route sheet. I would have to rely on the others to make sure we stayed on route.
Somewhere past Bellingham, Amy let us know we were getting sleepy. We stopped by a little store. It was closed but well lit. We had something to eat and Amy rested for a few minutes. Then we took off into the dark. Eventually we made it through Ferndale and into the home stretch.
Ah, the home stretch, remember Peace Portal Way? Cachunk, cachunk, cachunk……. 15k of constant cachunking. We could see the lights of Blaine ahead but the cachunking seemed to go on forever. I looked over at Amy and asked, "Do you think we're in hell?" Amy laughed as the road got even bumpier. I looked up at the sky and yelled, "I didn't mean that!" I felt like my saddle had been stapled to my butt, however the end was near.
We pulled up toward Canadian Customs not remembering whether to get in the line of cars on not. Peter yelled, "Over here". We coasted around the cars to the pedestrian entrance and applause from Peter, Karen and her sister. What a Sister! Meeting us at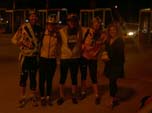 2:40am. She had bread and peanut butter too, and that was a good thing because where were no restaurants open at that hour. We stood around in a daze eating our peanut butter sandwiches and staring off into space. The emencity of our accomplishment not sinking in. A friendly Border Guard took our picture. We hugged Karen and her sister and headed back toward our hotel. At US Customs, we were asked how long we had been in Canada. About 15 minutes we said. "We took a little bike ride" we told the official.
PS. We got lost the second night because we turned onto Hwy 7 instead of Hwy 161.
August 7, 2005