BC Randonneurs
Cycling Club
Next--->
Paris Brest - The Last Ditch Effort
Sarah Gallazin
We were lying in a ditch in rural France. Our bikes stood guard, upright, beside us. Our excess clothes, gloves, helmets, and the contents of our pockets were strewn on the grass, John was asleep. Hoards of bikers seemed to whiz by us on the road, in the direction of Paris. With 220 kilometers to go, we had given up. The heat of the day and the 1,005 kilometers we had already biked had won. We kept falling asleep on our bikes, and it seemed PBP had claimed another 2 victims.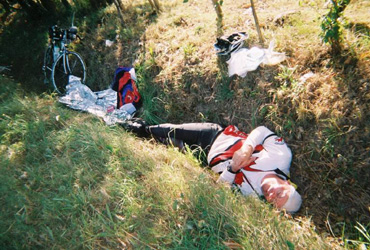 My husband and I were in France to ride the PBP. Everyone who makes it to the start line has endured challenges beyond imagining, in qualifying for this event. They are all winners. Especially those riding qualifying rides on the "Wet" coast. It is a crime when a rider does not finish this ride. So much time, effort, and money are expended.
A voice in my head told me I was not well enough to start the ride. Seven days before leaving for France, I came down with a sore throat and a bad cough. The cough did not go away. I felt we had invested so much emotional, physical, and financial energy, that I was compelled to ride.
The first night was scary. We started at 10 pm with 700 riders in our wave (out of a total of 4,069 riders) riding shoulder to shoulder into the dark. Even though I had ridden the 1,000 km distance, I had not tested my ability to endure sleeplessness. On the first night I kept wanting to lie down between 3 - 5 am, just before dawn. With the 10 pm start, the first sleep 90 hour riders might hope for is 24 hours after they begin.
We arrived at the first control at 141 Km, 7 minutes ahead of our plan. We had been passed by many of the second and third wave riders who started later than us. I knew that I could not keep up the pace.
I convinced John and our friend, Garry Elmitt, to slow down for the next 2 controls. It was hell. I was achy, weak, and felt flu-like, not to mention sleep deprived. Every control, I would tell John, "I'm dropping. I'll just have something to eat, and see how I feel, but I doubt it…" And on we would go to the next control, just to repeat the same scenario. Saint John was ever patient.
There were a few reasons I kept going. On the first night we rode into the darkness of rural France, and could see only the shapes and shadows of the beautiful villas and treed hillsides and farms on our route. I knew if I dropped, I would miss all the scenery. Also the thought of the "sad, lonely train ride back to Paris" kept me going. I had dropped in a ride this summer, and the thought of the plane ride home as a DNFer was unbearable. As new Randos, Cheryl Lynch had vouched for our riding abilities, and even our character on more than one occasion; how could I DNF?. I could not add a 51 year old Canadian female to the DNF stats; everyone would think I was too old! Stupid reasons. I was too sick to ride. I knew it after the first night.
Garry was riding too fast, for me; we had to let him go. I felt guilty as St. John was now forced to ride my snail's pace. Our first sleep was on a table in the cafeteria of the control at Loudeac. I tried to stretch out on the cafeteria floor, but too many bodies, and a spilled can of coke chased me to the table. John slept across from me with his arms folded on the table and his head on his arms. The alarm on my watch woke us. I sat up at the cafeteria table rubbed my sleepy eyes, as we had only had 15 minutes sleep. A couple of French cyclists were having breakfast beside us , at our table. I was wakened with the most cheerful "Bonjour, Madam". I just had to laugh.
After possibly the best hot croissant ever baked, and coffee for breakfast, we tried to ride again. That was short lived. Fatigue was the ever-present demon. We kept trying to stop for power naps. Eventually we succumbed. I spread out my space blanket and John and I slept in a cattle field, at the top of a beautiful misty hillside, in the dawn light. And it was cold. We woke in an hour and our teeth were chattering. Again a rude shock to the system. It is very difficult to operate a bike when your body won't stop shaking. Oh, but it was pretty scenery. We literally lived on caffeine pills. Six or more a night, for four nights. It kept us going. The downside was that when an opportunity to sleep came, the pills made it impossible.
Because I was sick and rode slowly, we used up all our sleep time and were constantly chasing a time deficit to make the closing times of the controls.
On night 3 we rode with SIR members, Amy and Robin Pieper. Our caffeine pills helped them as well. The ride became a black road ahead, following lights up endless hills, and falling asleep on my bike. Thankfully I would wake up when I hit gravel on the side of the road. At one point I didn't know if John was in front or behind. Me, I was so out of it.
Day 3 was hot. We slowed to a crawl after the sun got high in the sky. Falling asleep, and weaving, even a visit to a local café for some coffee did not help much. We found our ditch and had our 1 hour sleep. This is where I believe we had some "divine intervention". It was like I had been struck with a thunderbolt. I wanted to try to finish in time - so many riders were riding by our ditch, all hoping to make it, riding like bats out of hell. I wanted to go out in a blaze of glory, to finish, or explode in the process. I believe Roger Street and my friend Denise Mason had a lot to do with getting us going. They were watching over us. I was riding with Denise's bandana, she died of cancer in May. Roger had been our patron, and he always believed in us.
I woke John up. He agreed to go for it. He said "stick on my butt". I did. This is what he had wanted to do for the entire ride. We passed so many riders saying, "This train's goin' to Paris, hop on!" And they tried. We rode with several people for a short time, but our pace was too fast. We were "on fire". So many hills, so few directional arrows….but we made it to the control.
The spookiest experience was the rural road to Mortagne Au Perche. We started out with a few riders. As the night wore on, our riding companions disappeared and the roadside ahead became littered with sleeping riders beside their bikes, reflective gear glinting eerily in our headlights. Victims of the road. It was like a war zone - bodies everywhere. Oh, the hill to that control! The up hills were killer, the down hills icy cold and endless. It seemed we would never reach the control. Some riders passed us going very fast. We thought they were just frivolously racing. We met Stephen Hinde , he said there was a lot of up and down before the town. We had no idea how far it was to the control. I looked at my watch, wondering when the torture would be over. I noticed I only had 15 minutes to make the control cut off. I booted it. I made it to the control, but John was no where to be seen. Last time I rode with him, he was cursing the hills, the darkness, the cold, etc., approximately 10 km back.
I checked in to the control. Then I waited in the still cold air for John. Was this the end? Finally he rode up. I told him to ride up to the door, jump off his bike, and run into the control. He only had 2 minutes until cut off! Now we knew why those riders were racing up the hills!
We had no sleep since the ditch. Weariness was setting in. The last 82 km had been hard. It seemed like we were riding around in circles. The entire course was crudely chip-sealed. It was taking its toll on our wrists and crotches. There was a lot of standing on the pedals. And new swear words were discovered.
We made it to the last control - no time to sleep now. Another great meal, and off we went. The sun was hot, but thankfully a breeze cooled us. John was fading and wanted to stop for a coke, as water was not quenching his thirst. Of course, there were no stores open on the route. Thank God we didn't get a flat in this section. I was not capable of fixing anything! It was a very long 58 km.
We had a motorcycle escort into town. Finally the finish line. Some of our friends calling our names. Stashing our bikes and running to the control. We became PBP finishers.
A week later back at home in Vancouver, my doctor recommends I be tested for low iron levels, as I seem to be exhausted for some reason!
Ray Wight of Prairie Randonneurs said that PBP is scheduled every four years, so riders have time to forget. Fortunately, I have a very good memory!
_