They're in it for the long, long ride
41 B.C. Randonneurs to cycle famous Paris-Brest-Paris brevet
by Tom Berridge
Burnaby Now, Saturday, August 18, 2007
Nigel Press is hoping to become one of just a handful of B.C. long-distance cyclists to ride in France from Paris to Brest and back again in less than 65 hours.
The best time so far for the 31-year-old Red Cross technician in Burnaby was a sizzling 47 hours in a recent 1,000-kilometre ride that began at the intersection of Boundary Road and First Avenue and continued on to Osoyoos and back through northern Washington State.
"It's about testing yourself, I guess - seeing how far you can go," said Press, who has been been randonneuring - or long distance, non-competitive cycling - for two years. "There is never a final sprint. Minutes don't matter in randonneurs. It's more of a social sport, like marathon cycling."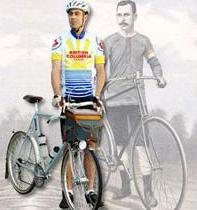 Past and present: 1891 Paris-Brest-Paris winner Charles Terront makes a nifty backdrop for B.C. Randonneurs Cycling Club's Nigel Press, who will ride in the 1,200-kilometre event next week.
Photo Larry Wright/ Photo Illustration Doug McMaster/BURNABY NOW
Nevertheless, riders in this year's edition of the Paris-Brest-Paris must complete the endlessly hilly and challenging 1,200-km distance in either 80, 84 or 90 hours, depending on their pre-race prediction. If any rider fails to meet their estimated time, they would be deemed a non-finisher.
An avid commuter cyclist, Press learned about the B.C. Randonneurs Cycling Club on a return trip from Vancouver Island.
He met a fellow cyclist along the way who showed him a new route home and told him about a new club that spent many weekends on 'crazy rides,' navigating pre-determined routes of 200-, 300-, 400- and 600-km on two wheels.
Completing all of the prescribed distances in one season earned Press a super randonneur pin this year and last, and enough brevets, or sanctioned distances, to qualify for the famed PBP.
On Aug. 20, Press will ride his completely self-built bike in his first first-ever PBP.
Burnaby resident Peter Stary rode in the 100th anniversary of the PBP in 1991 and finished in 66.09 hours, the second-fastest time among B.C. riders that year.
"Any randonneur is what you make it. Some riders make it a race, most just do it to finish," said Stary, a 53-year-old who began commuting on a bicycle 25 years ago after a late friend once challenged him to justify his use of a fossil fuel-burning automobile every day.
"It's guilt that got me started, but it certainly is not what kept me cycling," Stary said. "It's the enjoyment, and I find I can keep myself fit and healthy without it costing me a lot of money."
It's also a time to separate himself from the day-to-day routine. "You're basically just out there on the bike, maybe with others or by yourself," Stary added.
True to his word, Stary is still cycling every day to work in Vancouver. He's been a member of the Randonneur's club for the past 21 years and hopes to be able to do the PBP again.
"The Paris-Brest-Paris is the oldest and most famous and best attended of the cycling races," Stary said, adding there are other reasons why he enjoys riding his bike.
"There are times when I experience and see great beauty and nature unfold. I see the wildlife, the birds. ... It can be a sensory experience."
Former club president Danelle Laidlaw of Burnaby took a much different road to randonneuring.
She thought she had washed her hands of long-distance cycling in the 1980s after just one 200-km ride.
"I said, 'I did that. I'm not going to have anything more to do with these crazy guys.'"
But a decade later, the two-time PBP finisher took it up again as a personal challenge during a difficult stage in her life.
She had left her job of 10 years to go into business for herself in what Laidlaw calls a life-altering move.
"It was the idea of having so many people out there doing the same thing, and the challenge. I put my mind to it and I did it," Laidlaw said. "It was one of the hardest things I've done.
"It taught me I can do anything I want to do. If was a life-changing event in many ways. I felt part of something special."
The word heard throughout the PBP is "c'est dur." It means, 'it's hard,' in English.
The French people applaud and appreciate the heart of the individual cyclists as they pedal past their homes, offering their heroes food, drink and sometimes a place to lay their head, if just for a few hours.
Laidlaw has done other long brevets, including the 1,400-km London-Edinburgh-London, Boston-Montreal-Boston and the Rocky Mountain Challenge, from Kamloops through Jasper and Banff and back, but none compare with the PBP, she says.
"It's different because it's the birthplace. It's the longest. The French people behind it. It really is the one to do. And there are all sorts of stories," she said, relating the tale of a guy in 2003 who had broken his pelvis on the route and finished the race with the help of his buddies who carried him to all the controls and would plunk him back in the saddle every morning.
C'est dur.
Laidlaw says changing attitudes about biking don't have to be that hard.
"It becomes a lifestyle," she said. "If you get into it, there are times when I put in more miles on my bike than in a car. Every time I have to go out, I think first, 'Can I do it on a bike?'"
For more information on the B.C. Randonneurs Cycling Club, go to www.randonneurs.bc.ca.
© Burnaby Now 2007
---
Source link to Burnaby Now on line